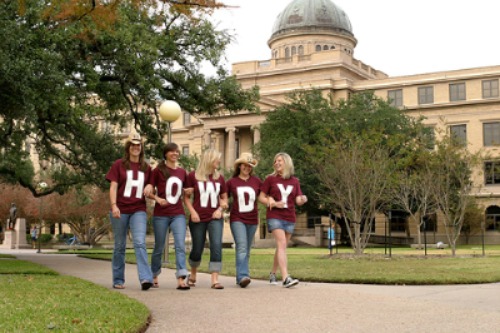 We are a lively collection of moms (and grandmoms, plus a dad or two) from all around Round Rock, including Austin, Pflugerville, Cedar Park, Leander, Hutto and Georgetown, all with one thing in common:  We love and support our Aggie students!
Some of us were Aggies first, moms second, and Aggie Moms third.  Some of us are graduates of other schools in the A&M system.  Some of us are graduates of A&M rivals.  Some of us are Aggie legacies, with fathers and grandfathers who were Aggies before us.  Some of us are first generation Aggies, creating our own legacies.
The Round Rock Area Aggie Moms' Club does its best to create an environment of support and caring for our students and for each other. We:
Meet other moms who have entrusted their students to the oldest, finest public institution of higher learning in Texas

Learn about traditions/student activities, support student organizations through monthly meetings and programs

Participate in activities of District 5 of the Federation of Aggie Mother's Clubs 

Stage mini-boutiques with Aggie goods for sale for club members.

Have a ready and open support group for any and all questions and concerns.
Our students are our main focus, and here are some things we do for them. We:
Provide scholarships for incoming freshman.  We have also endowed our first scholarship through the Texas A&M Foundation.

Sponsor the annual Fall Tailgate Party on campus

Surprise lucky students with "fun bucks"

Recognize and congratulate Aggie Ring recipients

Provide Ag Bags of goodies before finals
We've put together some resources for our new Aggie Parents.  Whether it is learning the lingo of our club through the RRAAMC Aggie Mom Dictionary 2016-2017 or sharing some helpful tips, we want to support you as your family takes this next step. Another resource is attending Aggie Moms Fish Camp.
The Round Rock Area Texas A&M Mothers' Club is one of more than one hundred Aggie Moms Clubs across the country.  We are organized exclusively for charitable and educational purposes.
"We strive by individual and united effort to contribute in every way to the welfare of the students at Texas A&M University and to cooperate with the University in maintaining a high standard of moral conduct and intellectual attainment…." and we make new friends and have fun in the process!
Aggie Moms are proud, proud of Texas A&M University, proud of the daughters and sons they send to Texas A&M and proud of making a contribution: to the education of their Aggies, to the future of Texas A&M University and to the future of the great State of Texas.
**Club chartered in January 1997