Next Meeting:
Christmas Party!
Thursday, December 9, 2021 7 p.m.
Fun and games and good cheer! Look for an evite with more details.
7320 Wyoming Springs Dr, Round Rock, TX 78681
Upcoming meeting dates:   1/10, 2/7, 3/7, 4/11, 5/9   Check back for details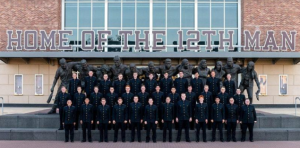 at Riverbend Centre, Austin,
January 15, 2022
Or contact a board member, message through Facebook, or come to the next meeting to purchase your tickets!
Membership
We welcome all our new Moms to the Round Rock Area Aggie Moms Club.  We wish all our students a great school year! 
Federation Information
—Moms! Don't miss this message from the Federation President and information on the Fall meeting and diner in Aggieland August 27-28
Scholarships
RRAAMC Scholarship 2022 Form

(coming soon)
From past meetings:
The Big Event 2022 happening 3-26-22! Encourage your students to get involved.
Don't forget about this incredibly helpful book!