Next Meeting:
April 11, 2022 7 p.m.
Please check back for more details and look for an emailed invitation.
7320 Wyoming Springs Dr, Round Rock, TX 78681
Upcoming meeting dates:   5/9   Check back for details
Scholarships
RRAAMC Scholarship 2022 Forms:
Roberts Family RRAAMC Scholarship 2022
Membership
We welcome all our new Moms to the Round Rock Area Aggie Moms Club.  We wish all our students a great school year! 
Federation Information
From past meetings: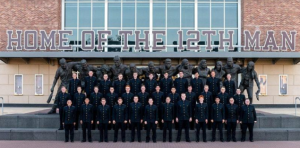 at Riverbend Centre, Austin,
What a great show! See them the next time they're in town!
The Big Event 2022 happening 3-26-22! Encourage your students to get involved.
Don't forget about this incredibly helpful book!